Hernando County, Spring Hill & Brooksville
Deep Sea Fishing Charters in Hernando Beach!
Hernando Beach Offshore Grouper Fishing Specialist!
Offering Offshore Grouper Fishing Charters & Deep Sea Bottom Fishing Trips!
Home # (352)686-0853 AT&T Cell #1 (352)238-9339 Cell #2 (727)460-5748
4477 Calienta Street in Hernando Beach, Florida 34607
Providing FUN FAMILY FISHING TRIPS since March 2001!
We have the most 5 star reviews on Google for a reason!
Look Up: Angling Adventures Deep Sea Grouper Fishing Trips out of Hernando Beach.
23+ Years as a U.S.C.G Licensed & Fully Insured Charter Captain!
| | |
| --- | --- |
| | Hernando County Gulf Grouper Offshore Fishing Charters at it's finest! Our West Coast of Florida offshore fishing specialist, Captain Steven Soults, specializes in catching Gag & Red Grouper, Goliath Grouper, Amberjack, Kingfish AKA King Mackerel, Bull Redfish, Cobia, and a variety of Sharks and many other deep sea fish species that call the Gulf of Mexico home. |
| | |
| --- | --- |
| The beautiful Gulf of Mexico is renowned for its abundance of fantastic offshore fishing, and the variety of sport fish is endless. More grouper are landed in the west central area of Florida than in any other area in our state. The diverse topography of the Gulf of Mexico includes natural and artificial reefs and rock piles, also deep ledges along with many wrecks combine to make great havens for all kinds of reef fish like Grouper, Snapper, Amberjack, Cobia. We also have a great migration of Kingfish or King Mackerel, Giant Bull Redfish, Cobia, and a variety of Sharks giving you many different offshore charter fishing options all year round. | |
| | | |
| --- | --- | --- |
| | So whether you are a novice or an expert we will give you and your family and/or friends the best trip available! Give us a call; we would love for you to experience all the unforgettable Deep Sea Charter Fishing that the Nature Coast area and the Gulf of Mexico have to offer. | |
| | |
| --- | --- |
| All of our deep sea fishing charters depart from the Hernando Beach Boat Launch in Hernando Beach, Florida. We are within minutes to the open waters of the Gulf of Mexico giving you more time on your trip to spend offshore fishing for that fish of a lifetime! | |
| | |
| --- | --- |
| | We are centrally located in Weeki Wachee and now offering Charter Fishing Trips to all of the surrounding area's of Hernando County. Including all of Spring Hill, Hernando Beach, Bayport, Brooksville, Chassahowitzka, Homosassa, Crystal River, Inverness, Yankeetown, Hudson, Hudson Beach, Port Richey & Tarpon Springs. |
| | |
| --- | --- |
| We are only a short drive due West from the Orlando area's attractions, Clermont and Sumter County. Only about an hour's drive South West from Ocala, Leesburg, Tavares, Wildwood, Bushnell & the Villages. Only 30 minutes south of Crystal River and Homosassa Springs, Citrus Springs & Dunnellon. | |
Conveniently located less than an hour's drive North from St. Petersburg, Largo, Palm Harbor, Clearwater, Lakeland & the Tampa Bay area attractions!

Give Captain Steven a call at his office # (352) 686-0853 his cell at (352)238-9339 and let him give your family/friends a FUN FAMILY FISHING ADVENTURE TO REMEMBER for years to come!
Check Out our Brand New Sea Fox 256 26' Offshore Fishing Boat
with Twin Yamaha 150HP 4 Stroke Outboards!
On the (MY BOATS LINK) listed at the top of page.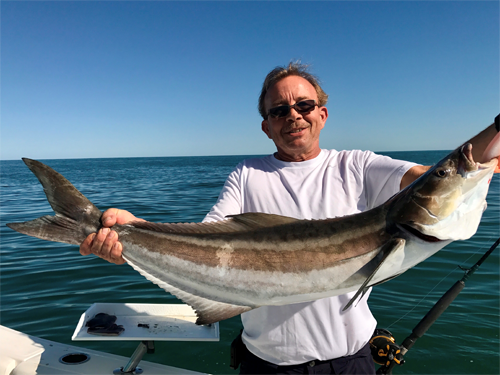 FULL TIME ON THE WATER CHARTER CAPTAIN!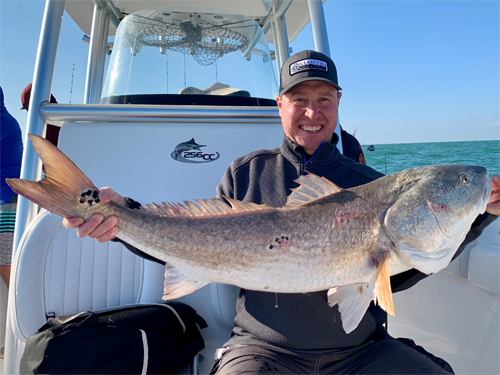 Providing Quality Fishing Charters since March of 2001!
Were not just fishing / Were catching!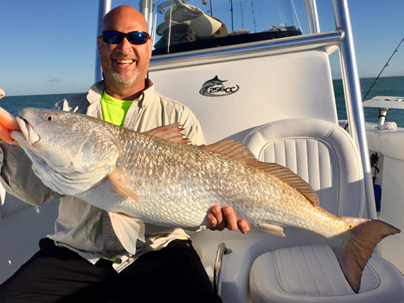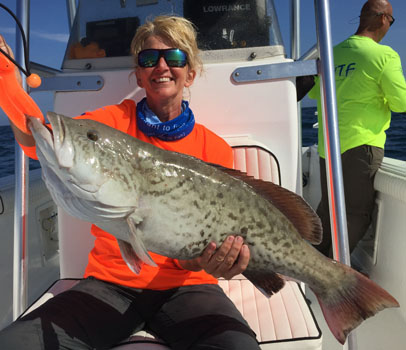 Angling Adventures Charter Service
caters especially to family's!
Angler's of all ages and experience levels welcome!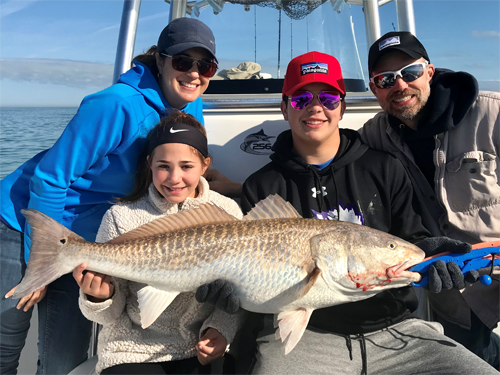 Making memories everyday that last a lifetime!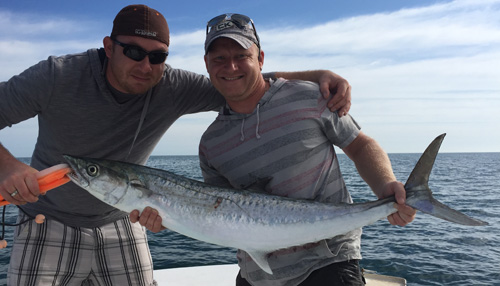 HOME OF THE:

Depending on the time of the year and what type of fishing you are looking to do with you and your family and/or friends, it may require us to drive out further offshore and require the extended trip listed below!
Gag Grouper Season is currently closed, but will reopen on September 1st - November 10th 2023!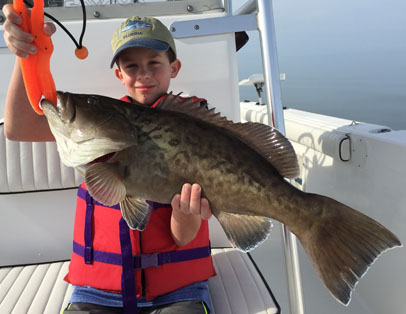 Red Grouper Season will remain open for 2023!
Getting close to Spring King Mackerel fishing for 2023!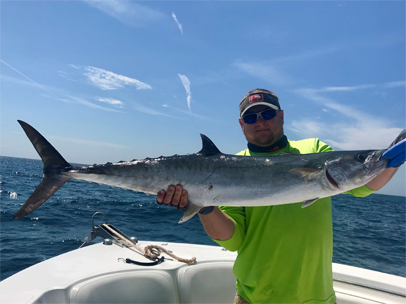 LET'S GO CATCHING LADIES!!!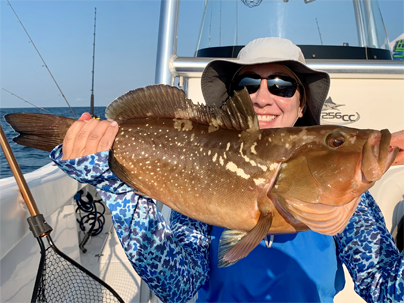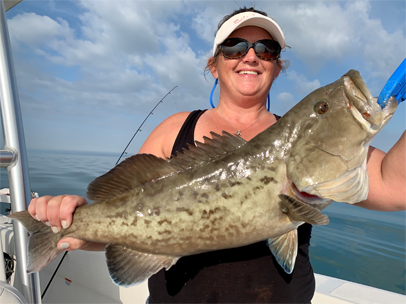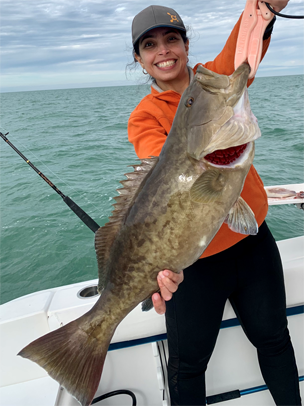 Be sure to check out our Offshore Brag Board listed below!

OFFSHORE BOTTOM FISHING PRICES
Book now to lock in our 2023 Fishing Special!
1/2 Day Offshore fishing trip listed below is a great alternative to inshore fishing! This is a perfect trip if you just want to have some good family fun bottom fishing for all different types of reef fish & you don't have to cast all day!
(PRICE LISTED BELOW IS FOR THE BOAT & NOT PER PERSON)
(You can bring up to 4 anglers total for one low price listed below)
1/2 Day (4 Hour) Offshore Fishing Charters $650.00
(Approximately 15-19 Miles Offshore)
Great Trip for the months of March-June & September-December!
(Extended trip listed below is recommended in the warmer & cooler months!)
Extended Distance Offshore Bottom Fishing Charters
(5 Hour) Fishing Trip $750.00
(20+ Miles Offshore)
Great Trip for the months of January, February & March - June, July & August!
Each additional angler requested over 4 Only $75.00 Each (6 Anglers Max)
**If there is no mate aboard our boat! The Captain will be your mate**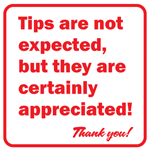 *PLEASE CONSIDER TIPPING THE MATE AS HE OR SHE WORKS FOR TIPS!*
** Gratuities are certainly appreciated if you've had a good time and feel you've been served well**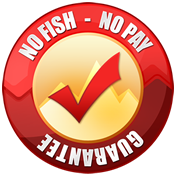 Our Pictures Tell The Real Story!
Bragging Board from recent Offshore Fishing Charters!

Recent 30 INCHES AND BIGGER BIG GAGZILLA CLUB! !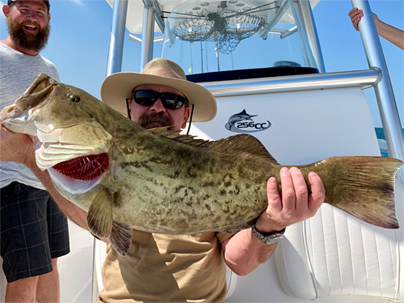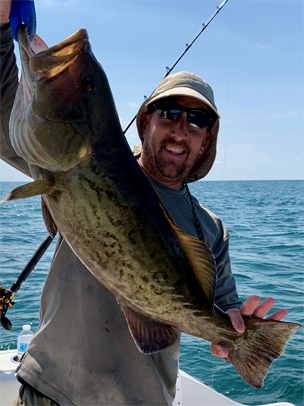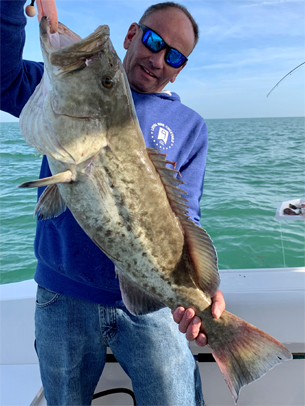 For more info on Inshore Flats Fishing Trips & Scalloping Trips please click the link below!

PAYMENT INFORMATION!
Want to pay with a check or cash?
We gladly accept all personal checks and of coarse cash is best!
Want to pay by Credit Card? We gladly accept all major Credit Cards!
We now accept VISA, MASTERCARD, DISCOVER & AMERICAN EXPRESS!
VERY IMPORTANT!
BOOKING INFORMATION!
PLEASE NOTE:
FREQUENTLY ASKED QUESTIONS ABOUT YOUR BOOKING FEE:
Click below for all the details on booking a fishing trip to remember!
I am not one of those captain's that will take you out on a unsafe day & put you and/or your family at a safety risk. I would rather cancel & see you next time, rather than never see you & your family again, because it was a unsafe day!
YOUR SAFETY IS MY #1 CONCERN!
Even though we are running newer equipment, Angling Adventures is covered by a commercial towing program to ensure that you and your family are going to return safetly to port even if a problem arrises!
Basically a (AAA) program for the water!
Angling Adventures is the
"ONLY FEDERALLY LICENSED VESSEL"
that can legally fish past 9 miles in our area!
2021 FEDERAL FISHERIES PERMIT
GULF OF MEXICO CHARTER /HEADBOAT FOR REEF FISH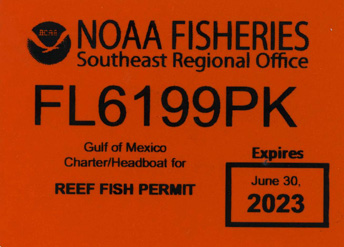 (WHICH IS REQURIED)
TO FISH OUT PAST 9 MILES ON THE GULF COAST
Don't get caught on a vessel that is not legally allowed to fish out past 9 miles.
Ask the Captain if he/she has a valid Federal Fisheries Charter/Headboat Permit listed above!
PROUD MEMBER OF THE MARITIME CONSORTIUM INC

Providing Guaranteed Compliance with the coast guard's drug
testing regulation, with over 9000 members!
Be sure to check out our sister page at www.angling-adventures.net for more information on scalloping and inshore flats fishing trips.
Check out our Business Cards Everywhere:)
Home # (352)686-0853 AT&T Cell #1 (352)238-9339 Cell #2 (727)460-5748
CLICK ON MORE INTERESTING LINKS BELOW